Pin It
How are you doing? Today I bring to you snow white nails. Erm, they are not exactly snow white, but you get the idea :)
As you know, I am taking part in a couple of challenges at the same time. Sometimes, they all work out together. Today, Pink & Polished Challenge (Day 2) threw up Favourite Holiday Song while Crumpets first task is themed snow/snowflakes. The Holly Jolly Challenge (Day 2) for next Monday is 'Let it Snow, Let it Snow, Let it Snow' while Plump and Polished (Day 3) seeks a tape manicure.
So can you guess my favourite Christmas song?
One of my most favourite bands is Boney M. I love all their Christmas renditions but my favourite is '
White Christmas.' I just love this song. Maybe it is because it never ever snows in Ahmedabad. In fact, it is bloody sunny even in winters as you can see from the above picture :(
This song is how I imagined they celebrated Christmas in the cold countries. Such beautiful lyrics: Where the treetops glistened and children listened to hear sleigh bells in the snow!
I used craft scissors, scotch tape and A-England St George to create my abstract treetops covered in snow.
Here's a
n upside-down shot of the snowed-in world :)
Another shot of the manicure. Can you spot Nubar White Polka Dots on my nails? (Psst... check out the pinkie.)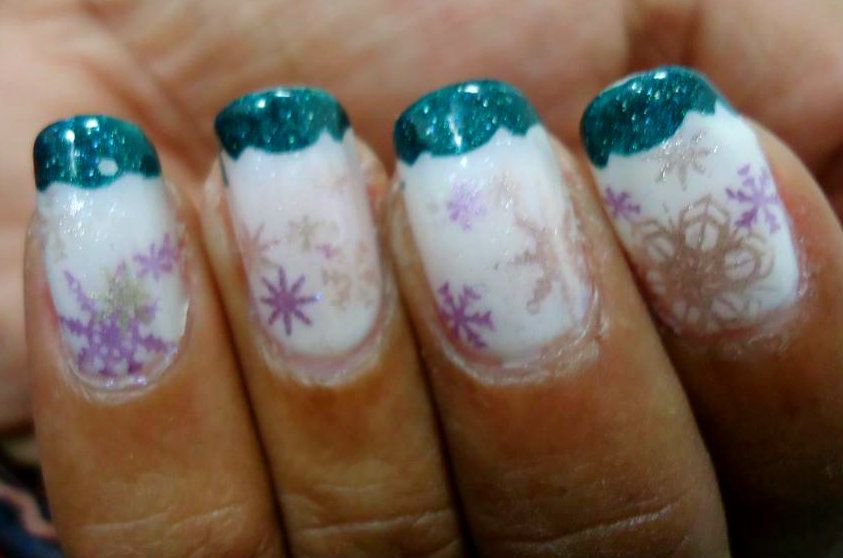 So, do you like my manicure or think it is a fail? Don't forget to comment. I would love to hear your thoughts.
Revlon Powder Puff (matte white suede base)
Nubar White Polka Dots (pearlescent micro and medium white glitter)
A-England St George (Scattered teal holo for the tips)
Snowflake plates: Bundlemonster 14, Bundlemonster 323, OB 19
Pin It