Pin It
Hello lovelies,
From my title you would have guessed what this manicure is about. Yes, it is the Grinch
from How the Grinch Stole Christmas! which is a children's story by Dr. Seuss. This one is for Plump and Polished's challenge 'Favourite holiday book/character'.
The Grinch, a bitter, grouchy, cave-dwelling creature with a heart "two sizes too small," lives on snowy Mount Crumpit, just north of Whoville, home of the merry and warm-hearted Whos. From his perch, the Grinch can hear the noisy Christmas festivities that take place in Whoville. Annoyed and unable to understand the Whos' happiness, he makes plans to deprive them of their Christmas presents, Roast Beast, Who-hash and decorations and thus "prevent Christmas from coming."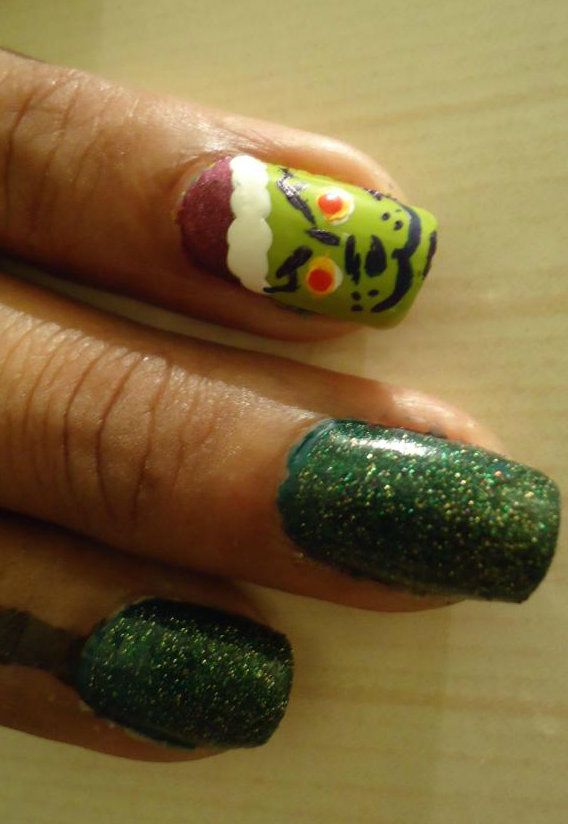 However, he learns in the end that despite his success in taking away all the Christmas presents and decorations from the Whos, Christmas comes just the same. He then realizes that Christmas is more than just gifts and presents. Touched by this, his heart grows three sizes larger; he returns all the presents and trimmings and is warmly accepted into the community of the Whos.
I am keeping the posts short as I couldn't update my blog due to Internet issues, and have to catch up with the pending posts.
So, do you like my Grinch? Don't forget to check out my other posts and leave a comment :)
Polishes used:
LA Girls Matte Alpine Green (green base)
China Glaze Winter Holly (glitter topper)
Zoya Harlow (Hat)
Zoya Mitzi (Base for grinch's face)
Acrylic colours red, black, yellow and white for the grinch's features.
P.S. For those wondering about the black mark on my index finger, its indelible ink. Gujarat Assembly elections were held in December and that mark tells all that I officially showed them my finger ;) Okay, I voted :D
Pin It