Pin It
Hi lovelies,
Still catching up with the Neverending challenge on my blog, the challenge is GREEN! And I had a tough time choosing from the scores of green polishes I own. Finally, I decided to go with a lemming I managed to fulfil: here's Picture Polish Kryptonite.
Picture Polish Kryptonite indoors
I am no superman, but this polish is a killer! Just look at it. Perfect colour, perfect depth, perfect sparkle. OMG! I just couldn't stop staring at it.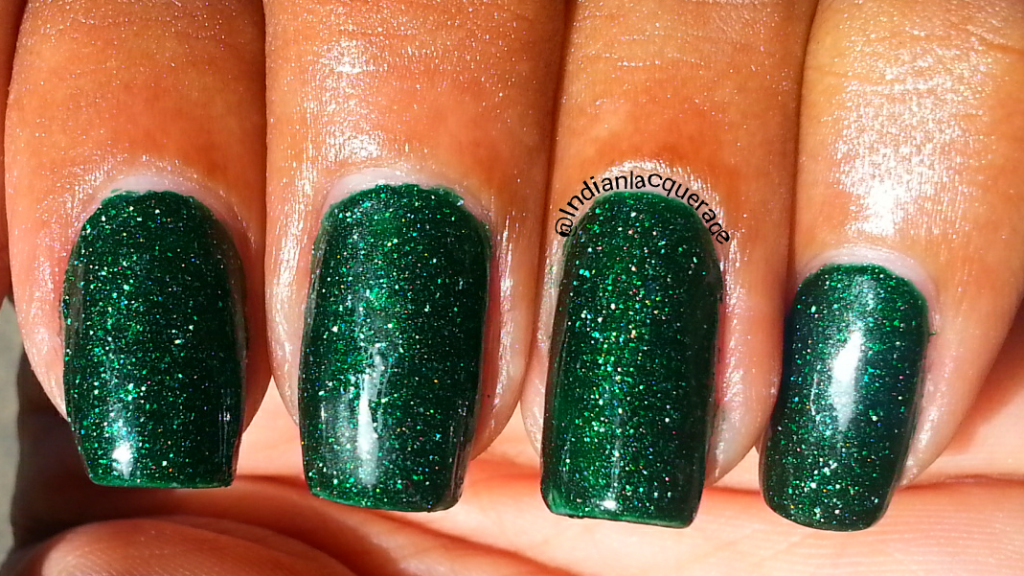 Picture Polish Kryptonite in sunlight
Kryptonite is a blogger collab shade by PP created in 2012 with Australian blogger Cathy aka More Nail Polish (you must check out this blog). This is a dark green scattered holo which dries smooth on the nail. The formula was excellent. This is three coats.
Picture Polish Kryptonite: holo macro shot
Here's a shaky print of a macro shot so you can see the holo particles. I am so much in love with this polish that the thought of doing nail art just did not enter my head. I do not want to apply it, just admire the bottle (kooky, or what?).
What do you think about this shade? Do leave a comment below.
Pin It