Pin It
Hi lovelies,
I have been seeing

photos of the new Cirque du Soleil Worlds Away 3D collection from China Glaze in blogland. These polishes are so unique it is understandable what the excitement is all about.
China Glaze Cirque Du Soleil collection
See, what I am talking about. The third, fourth and sixth polish could have easily been from an independent polish maker's stable. It is amazing how 'indie' productions are changing the way bigger brands are looking at polish.
ChG Cirque Du Soleil display
For this collection, China Glaze has teamed up Cirque Du Soleil to release 12 polishes inspired by the upcoming movie 'World's Away' which also features the artistic troupe.
Whirled Away seems to be a mix of matte white hexagons, matte black hexagons and matte black bar glitters. China Glaze sure seems to have caught on the 'indie' trend of black and white glitters. Considering how pricey indie polishes are, a bigger company making such unique beauties is always welcome.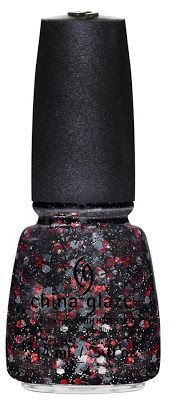 Get Carried Away seems to be

a glittery black nail polish with black and silver micro glitter mixed with larger hexes in red and silver. It seems sheer enough to be layered.
It's A Trap-eze (love the name!) is multi-glitter, kind of like Deborah Lippmann's Happy Birthday, NYX Carnival and OPI Rainbow Connection) in a white milky base. This is for those like me who love jelly sandwiches but don't want to bother with the hassle of layering on two-three colours. I did create something similar here.
Running in Circles is very fine glitter in a green base
Water You Waiting For is a mix of green and blue glitter in a sheer blue base. It seems to have a mix of fine and medium sized glitter.
That is it with the glitters in this collection. Now for the cremes/shimmers.
Creative Fantasy is a dark bright purple.
Bend Over Backwards is a shimmery red polish.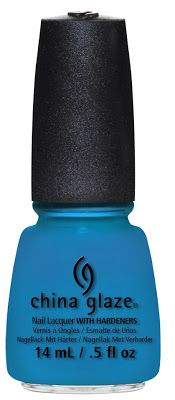 Surreal Appeal is a pink beauty.
Igniting Love is bright red creme.
Def Defying is a chartreuse green creme.
Escaping Reality is a hot pink mama.
Interestingly, the China Glaze Facebook page says the collection will be out on December 1. But they are already available on several online sites including transdesign.com.
I am most exciting about checking out the glitters in this collection. What about you? Don't forget to leave a comment.
Pin It