Pin It
Hi lovelies,
I apologise for being AWOL. If you've been following my blog, you will know about my finicky internet connection. I decided to take another recourse so I would not lose you guys. I am blogging from another computer.
My blogger friend Dimpal Rathore from Crazy Polishes started a new Facebook group called Indian Lacquer Lovers. The nail art posted by some members are so ah-mazing, you have to see it to believe it. To cut a long story short, Dimpal came up with the idea of having a regular Friday feature for ILL. So, here goes...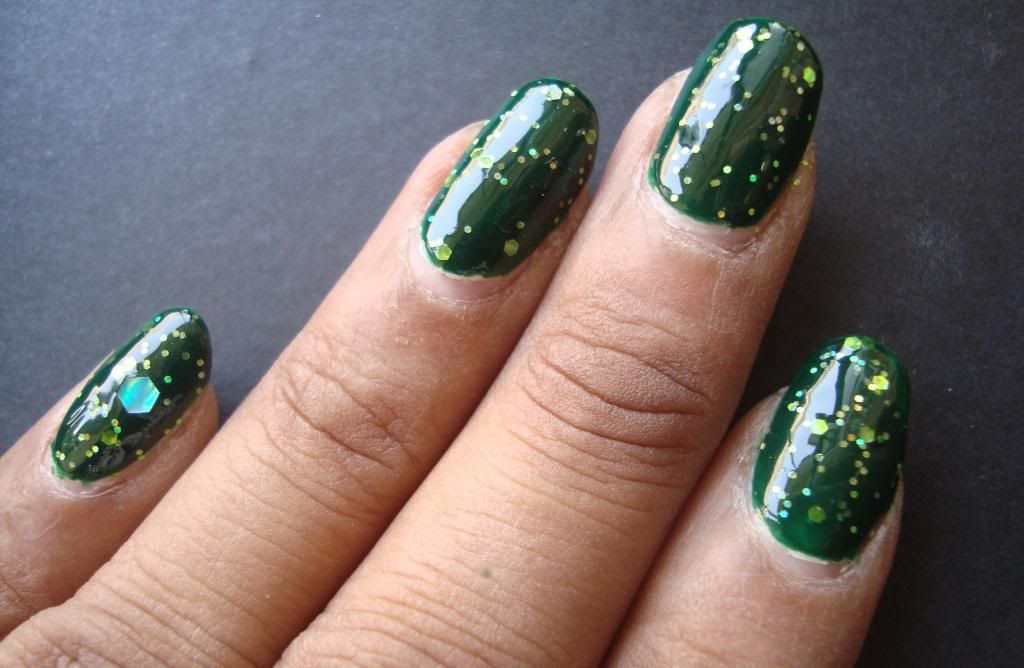 Isn't this a beauty? Green jelly gorgeousness.
And
squishy holo-ey gorgeousness.
If you haven't guessed till now, this beauty is NYX Enchanted Forest twice layered over Revlon Forest Green.
Enchanted Forest has tiny, medium and large holographic glitters in a thick, light green jelly base. Application was easy though you might have to fish out the large glitters. The thick base ensures that the glitters look suspended instead of sitting flat on your nails.
The Revlon Forest Green is a green forest green creme. It dries darker than the shade in the bottle. It is not a one coater. Two thick coats should do the trick.

WARNING:
It stains like a biatch. I loved this combination but the Revlon stained my nails YELLOW through two coats of peel-off polish! UGHH!
Oh, btw, if you are looking to buy the NYX, there are two versions out there with this same name. Be sure you are getting the chunky glitter and not the fine glitter polish.
Product: Enchanted Forest
Brand: NYX Girls
Collection/Range:
Regular
Colour: Large, medium, tiny green holo glitters in light green base
Finish: Jelly, smooth
Qty: 12 ml
Price/Availability: $2.25 (Rs 125 approx). It is not available in India. Can be ordered through

b

eautyjoint.com
and cherryculture.com
Product: Forest Green
Brand: Revlon
Collection/Range:
Regular
Colour: Dark forest green
Finish: creme, smooth
Qty: 12 ml
Price/Availability:
Rs 140. Easily available at any store selling Revlon or shop online.
Pin It