Pin It
Hi lovelies,
I have shown you dark and light polishes, simple and glittery polishes. Now it is time for some brights! Neons, to be precise. These are from Colorbar's 'Cocktail Brights' Collection. I got it from the Colorbar store at AlphaOne Mall in Ahmedabad. Damn! Living close to a mall does no good to the pocket ;)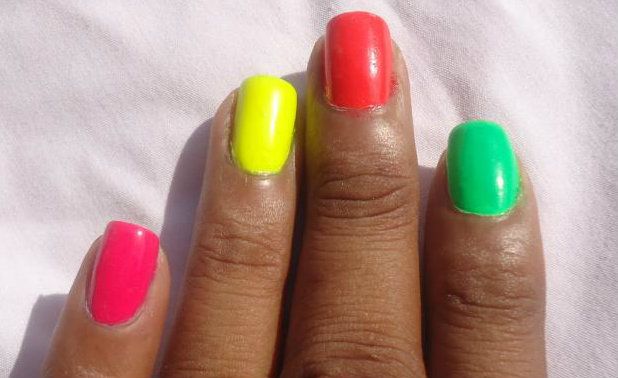 L to R: Colorbar Bubbly, Pina Colada, Twisted Peach and Lime Margarita
The product description is interesting:
Colorbar introduces an intoxicating line of Bright Neon Nail Paints, an intoxicating collection of nail-paint hues inspired by cocktail colours. Adding additional sizzle to the drizzle season, Cocktail Brights include plush plum and envy green, with bursts of bright pink, cheeky yellow, orange and blingy red.
So find your favourite lacquer from Pina Colada (neon yellow), Lime Margarita (neon green), Bloody Mary (neon magenta),

Plum Grenadine (neon purple), Tangerine Mojito (neon orange), and Pink Lady (neon pink).
It is long lasting and its toluene free formulation protects your nails from turning yellow. With extreme gloss it is guaranteed to brighten up the dullest of days.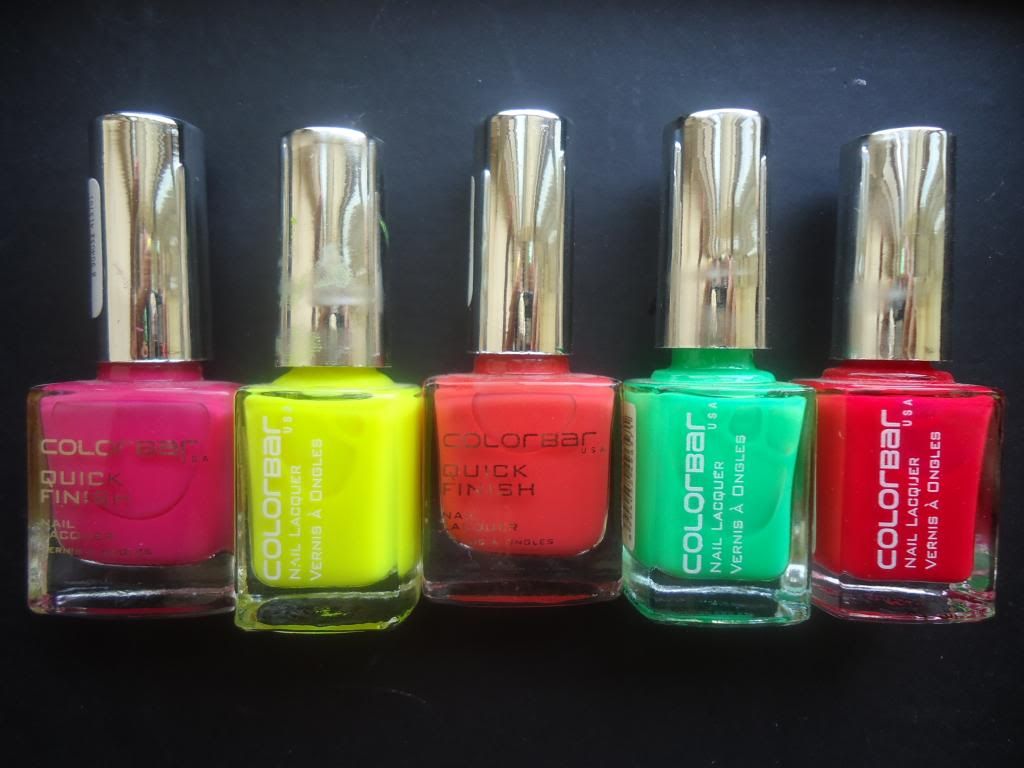 Colorbar collection: Bubbly, Pina Colada, Twisted Peach, Lime Margarita, Bloody Mary
I bought Pina Colada, Lime Margarita and Bloody Mary thinking I had Colorbar dupes of

the remaining three. But I was wrong. The ones I left behind were way brighter (of course!).
The bottles are pretty sturdy with a silver cap. Interestingly, this collection has stickers in the same colour affixed to the top.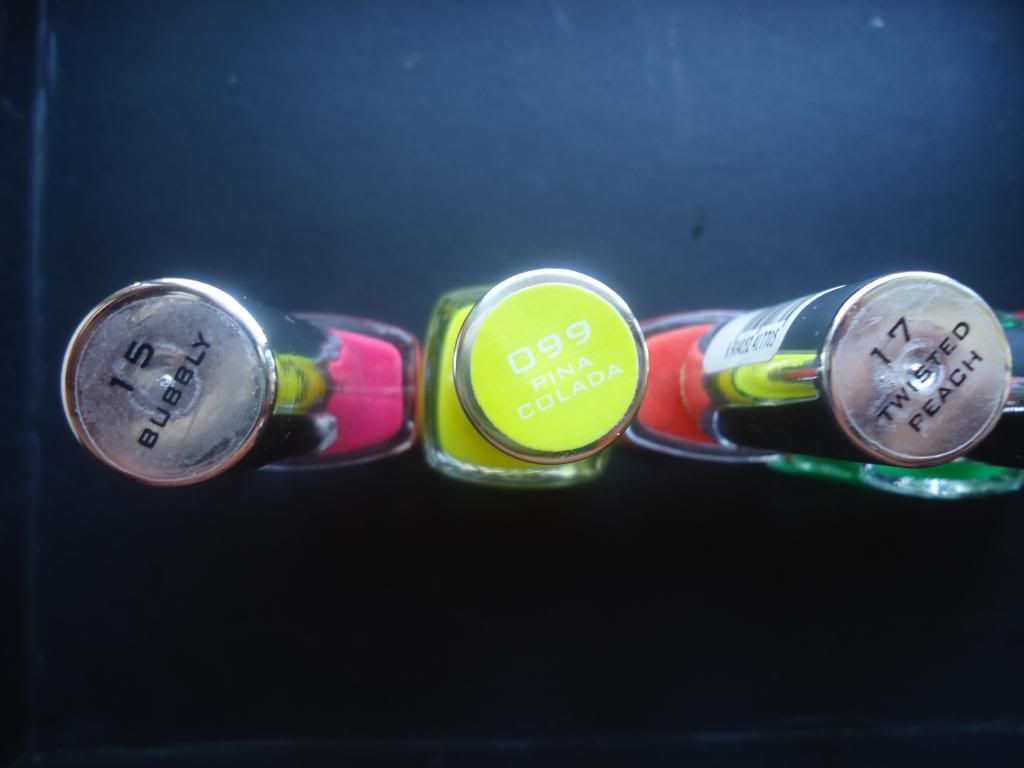 Bubbly, Pina Colada, Twisted Peach
Second shot: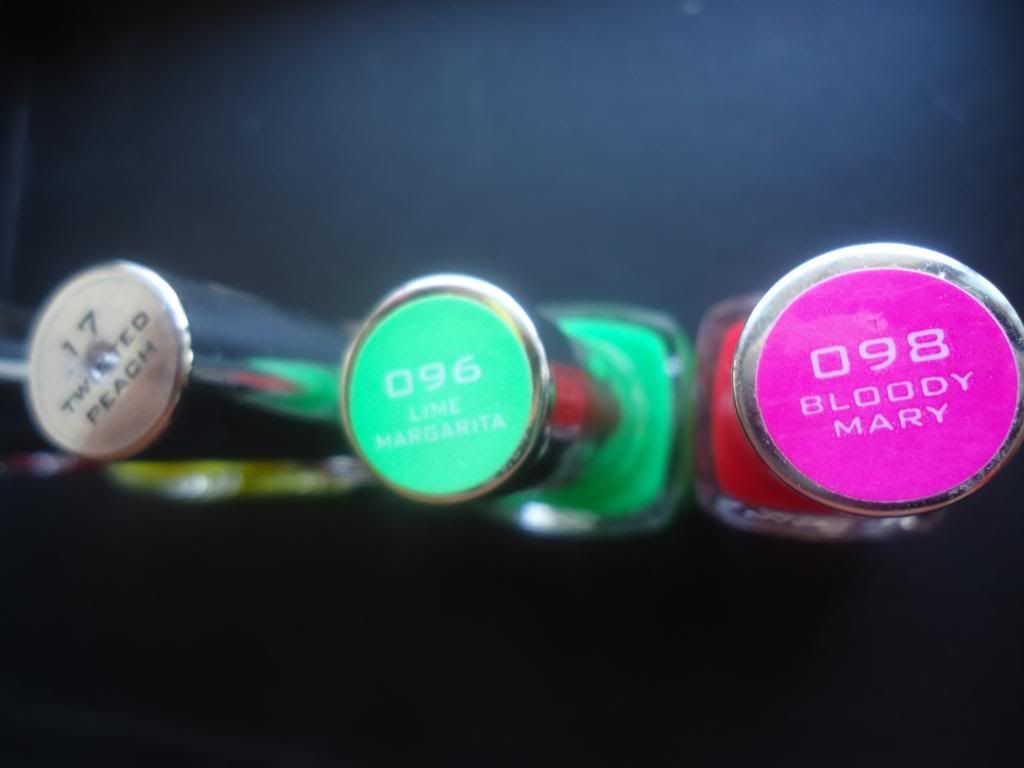 Twisted Peach, Lime Margarita, Bloody Mary
I had a simple but colourful manicure in mind, so I swatched them each on a finger. To fill the gap I used Bubbly (bright pink) on my pinkie and Twisted Peach (coral) on the middle finger from Colorbar's quick finish range.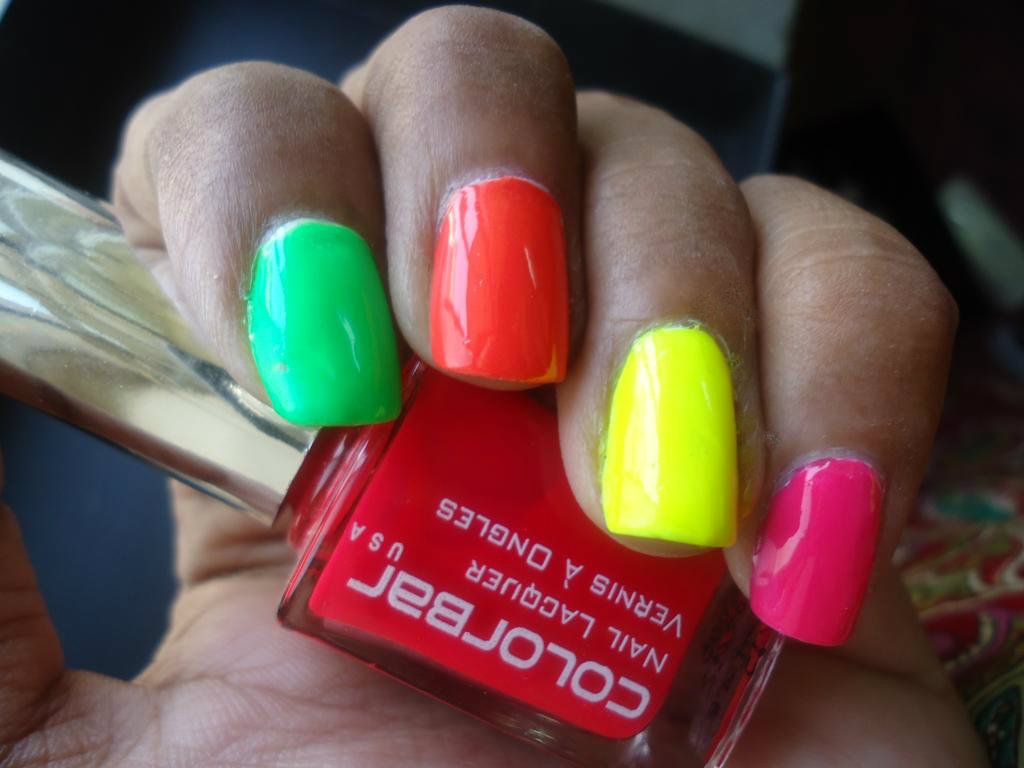 Bottle: Bloody Mary
Bloody Mary on my thumb. It looks blood red in the bottle. On the nail, it is a different story... erm... colour.

The polish dries fast and does not chip easily.
True to neons, these colours are sheer. It can be called a crelly because it is not a true jelly. The trick is to layer them on white to bring out its full effect. You can use these on their own, but it might take you 3-4 coats for an even finish.
The brush is just right, neither thin as in the Quick Finish bottles nor thick like the Pro range.
These are such perfect summery shades! Though I wish they had introduced a blue, too. But even these polishes can brighten up any winter day (My excuse to splurge).
Bring out the sunglasses!
I am a fan of Colorbar simply for the amount of colour it has introduced for our tips.
So do you like neon colours? What do you think about this range? Don't forget to leave me a comment :)
Product: Lime Margarita, Pina Colada, Bloody Mary
Brand: Colorbar
Colour: Neon green, neon yellow, neon magenta
Finish: Shiny, Crelly
Qty: 9 ml
Price/Availability: Rs 150 (Available at Colorbar stores, local stores selling Colobar brand and Violetbag.com for those who shop online)
Pin It