Pin It
Hi lovelies,
December heralds the beginning of Christmas season. And I am ready to face two nail challenges: Getting Ready for Christmas Challenge (Phew!) and the Totally Doable Nail Challenge (Amen!)
For this I combined both challenges. GRCC's first challenge is Not yet, but almost! and TDNC listed Pattern.
Since I had just received a consignment from one of my favourite indie polish maker Different Dimension, I just had to, had to sprinkle some magic using Cranfairy! I used a design from Bundlemonster's Holiday collection which to me represented ORNAMENTS!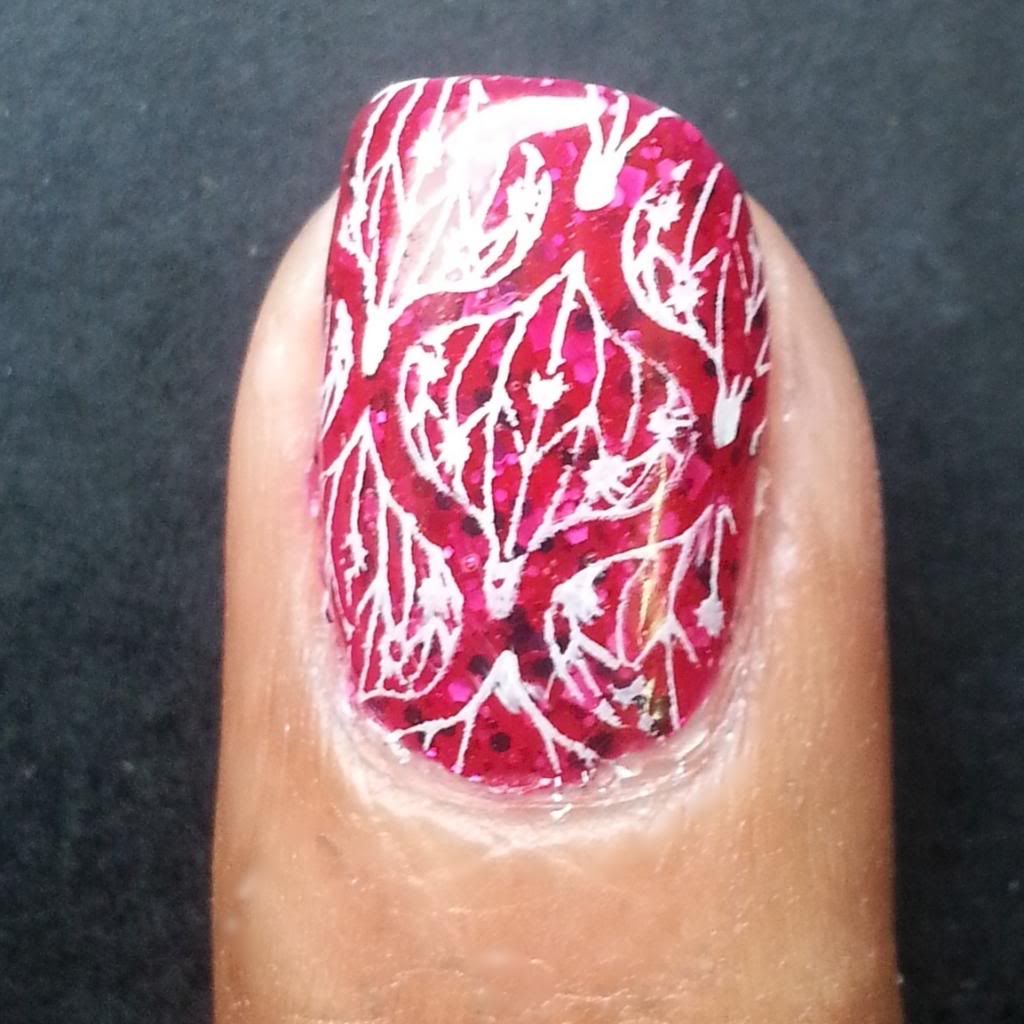 I have Not yet put up my Christmas tree, but I have almost decided on the ornaments.So this pattern fulfills both my challenges. And now for the gorgeous Cranfairy in all its lonesome, winsome beauty.
Cranfairy is a squishy raspberry jelly polish with hot pink, burgundy and fuchsia glitters. It does not have holo glitters yet it is a definite beauty. Two coats did the trick for me. It did dry gritty, so this is with two super thick coats of Seche Vite (Ah, what would we do without it).
A close up of how the polish looks on your nail. It kind of looked like a squishy watermelon to me. Is that black glitter I see? I really cannot figure out. And one more photo showing its squishiness, aided by my trusted SV, of course.
So what do you think of the polish and my take on the challenges? Do leave me a comment. I read them all.
As for the giveaway I talked about it my last post, I am working out something interesting for you all. So, stay tuned :)
Base used:
Product:
Cranfairy
Brand: Different Dimension(Indie polish)
Collection/Range: Fall 2013
Colour: Raspberry jelly
with hot pink, burgundy and fuchsia glitters
Finish: Gritty
Qty: 15 ml
Price/Availability: (Not available in India. Can be ordered through Etsy store)
Stamping:
Polish: Konad white
Plate: Bundlemonster Holiday Plate: BM-H02
Instagram: http://instagram.com/indianlacquerade#
Bloglovin: http://www.bloglovin.com/blog/3701687/indian-lacquerade
Google+ Circle: https://plus.google.com/u/0/113117093379493032774/posts
Twitter: https://twitter.com/IndianLacquerad
Facebook: https://www.facebook.com/Indianlacquerade
Pin It