Pin It
Hello fellow Indians,
Happy Independence Day to all of you!!! Today, India celebrates its 66th Independence Day. Yes, we are a young Republic in every sense of the way. But we have not forgotten our 100-year struggle for independence from British rule.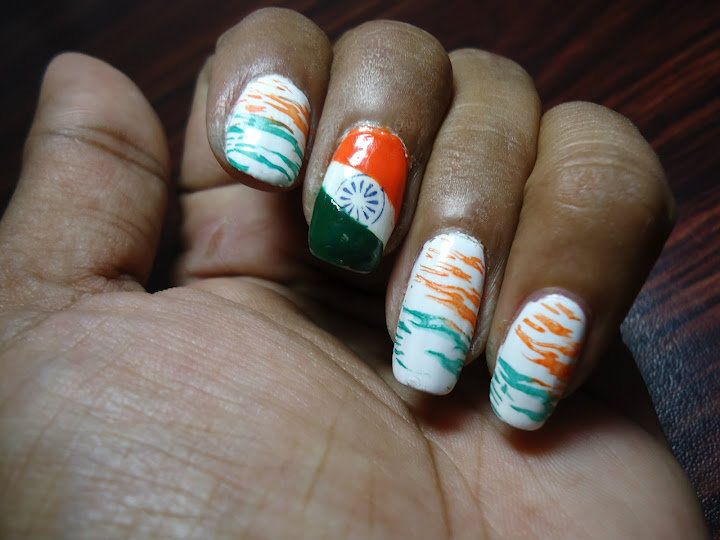 I remember the time we had only Doordarshan and how we would wake up bright and early (even though it was a holiday) to catch the Independence Day Parade in the national capital of New Delhi every August 15. How eagerly we would wait for the Prime Minister to unfurl the Tricolour so we could proudly sing our anthem
Jana Gana Mana
... standing in front of our TV sets, with our arms raised in a salute.
So, it is no surprise that I chose to replicate the Tricolour on my nails today.
The only thing making me mad was the lack of a proper white base. I had to make do with the super-duper streaky Faces White O White because my OPI Alpine Snow flew out of the window. I swear I am not joking. It really did. I picked up the polish, it slipped through my hands, flew in an arc out of the open window and smashed into pieces in the courtyard of my neighbour living on the ground floor :(
Independence Day manicure
I got the Ashok Chakra by using one of the two orange slices on Bundlemonster plate 04. It gathered quite some attention when I went shopping this afternoon. Was wondering if this is too plain? Maybe, I still have time to do something about that. Let's see.
UPDATE....
I just had to hide the streaky white, so I hit on an awesome idea to cover it up. A waving flag design (or at least that is what I think of it) using Mash plate no 38.
The design I ended up with...
Oops, I seem to have missed a spot during clean-up. Kindly excuse. Somehow it is not so visible on my finger... hmmm....
So, don't forget to tell me how you like this nail art. Happy Independence Day once again!
Pin It